OES Provides Financial Support to National Ocean Sciences Bowl Competition (NOSB)
The NOSB is a nationally recognized and highly acclaimed high school academic competition, managed by The Consortium for Ocean Leadership (COL). It provides a forum for talented students to test their knowledge of the marine sciences including biology, chemistry, physics, and geology. The NOSB was created in 1998 in honor of the International Year of the Ocean.1
Until this year the National Science Foundation (NSF) provided the majority of the funding for this event. However, due to the recent federal budget issues in Washington, NSF was unable to support NOSB in 2014. Determined to keep the NOSB alive, Dr. Robert Gagosian, COL President and his team began an intensive search for funding sources. The Eric and Wendy Schmidt Foundation generously provided 50% of the needed funding. The OES, a longtime supporter of the NOSB increased its level of support tenfold to $50k. Additional donations were made by numerous organizations.
The successful fund raising campaign allowed NOSB to continue this year. Twenty-two Regional NOSB Competitions were held in February and March. Three hundred teams, totaling 1645 students participated. In May the winners of each regional event traveled to the NOSB Finals at the University of Washington to test their knowledge of marine sciences against that of the other regional winners.
Along with the competition, the students participated in a day of interactive field trips around Seattle, an engaging speed-career search event and inspirational presentations from Dr. Brian Baird, President of Antioch University Seattle and former member of the U.S. House of Representatives, and Matthew Huelsenbeck, Team Relations Manager for the Wendy Schmidt Ocean Health XPRIZE.1
The OES funds were used to support the 1st through 13th place prizes awarded at the finals, as well as other operational expenses. The top three teams had their choice of prizes, including GoPro video cameras and all-expense paid trips to Northern New England and the Washington, D.C. and Maryland area to conduct hands-on ocean science activities and visit Marine Science education facilities. First place winner, Boise High School , Boise, Idaho selected the Northern New England trip as their prize. Arcadia High School, Arcadia, California, the second place winner, selected the Washington, DC and Maryland trip. Juneau, Alaska's Juneau-Douglas High School team members each received a GoPro video camera as their third place award. The fourth through 13th place teams received an array of prizes from marine science textbooks to gift certificates. In addition, two members of the OES, Robert Christ (SeaTrepid) and Robert Wernli (First Centurion Enterprises), donated a copy of their recently published "The ROV Manual" as a prize to the winner of the quiz which followed the speed-career search event interviews with noted scientists from the Seattle area. Cameron Springer, Captain of Bishop Sullivan Catholic High School Team from Virginia Beach, VA took home the manual.
The 4th through 8th place teams at the 2014 NOSB Finals were:
4th Place – Bishop Sullivan Catholic High School – Virginia Beach, Virginia
5th Place – Eastside High School - Gainesville, Florida
6th Place – Chaparral Star Academy - Austin, Texas
7th Place – Thomas Jefferson High School for Science and Technology – Alexandria, Virginia
8th Place – Lexington High School – Lexington, Massachusetts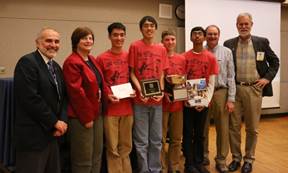 2014 NOSB Champions Boise High School (L-R: Dr. Robert Gagosian (President, Ocean Leadership), Elizabeth Creed (IEEE Oceanic Engineering Society), Ben Huang, Eric Huang, Nate Marshall, Karthik Mouli, Tony Baca (coach) and Dr. Robert Dunbar (Stanford University and Chair, Ocean Leadership)) (photo: Katherine Pietrucha, Ocean Leadership)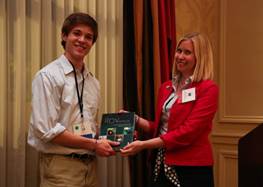 Cameron Springer, Captain of Bishop Sullivan Catholic High School Team from Virginia Beach, VA (Blue Crab Bowl regional winner) winner of The ROV Manual donated by the authors, Robert Christ and Robert Wernli receiving his prize from Kassandra Cerveny, Senior Manager of Public Affairs for Ocean Leadership (photo: Katherine Pietrucha, Ocean Leadership)
Test your oceanography knowledge with following example questions from NOSB competitions.
1. Which is the dominant process shaping coastal topography?
W. Ice Push
X: Seismic disturbances
Y: Turbidity currents
X: Wave action

2. To avoid nitrogen narcosis, which adaptation in seals is most helpful?
W: ATP production by fermentation rather than respiration
X: Exhaling at the start of the dive and collapsing the lungs
Y: Reliance upon stored oxygen in blood and muscles
Z: Re-routing blood flow to where it is
most needed

3. What is the name of the western boundary current in the North Pacific Ocean?
W. Benguela
X: Somali
Y: Kuroshio
Z: East Australia
4. Which of the following represents the different zones of the ocean from the surface to the bottom?
W: Abyssalpelagic-Bathypelagic- Epipelagic-Oceanic
X: Oceanic-Epipelagic-Bathypelagic- Abyssalpelagic
Y: Epipelagic-Bathypelagic- Hadalpelagic-Abyssalpelagic
Z: Oceanic-Mesopelagic-Epipelagic- Abyssalpelagic
5. Which of the following is a characteristic of an estuarine turbidity maximum?
W: Increased flocculation
X: Low suspended sediment concentrations
Y: Kelvin waves
Z: Temperature change
Answers: 1-X, 2-X, 3-Y, 4-X, 5-W
For more information about The Consortium for Ocean Leadership and NOSB go to: nosb.org
1Information obtained from nosb.org website